My buddy Eric and I met up with Curtis for a day on Curtis' home waters in the local mountains. I'd never fished this water before and boy was I in for a treat. It was lots of boulder hopping up a small creek full of large and small pools containing rainbows in the 6 to 9 inch range. They were very spooky but with the right drift they'd rise to a fly.
Eric hooked the first fish of the day right away in the first pool we came to. Latter in the day Eric will have several rises in a row, we counted 6, and he missed them all. I think he would of had the best day out of the three of us had it not been for his misfortune. We had to tease him and he took it all in stride.
Curtis lives near the creek and fishes it very often so he was our guide. He did a great job giving us tips on where the fish were holding in all the pools we came upon and there were lots of pools. It seemed he had the creek memorized. He knew what pool laid around the next bend all the way up the creek. Here's Curtis with a nice little rainbow hooked up in a nice run.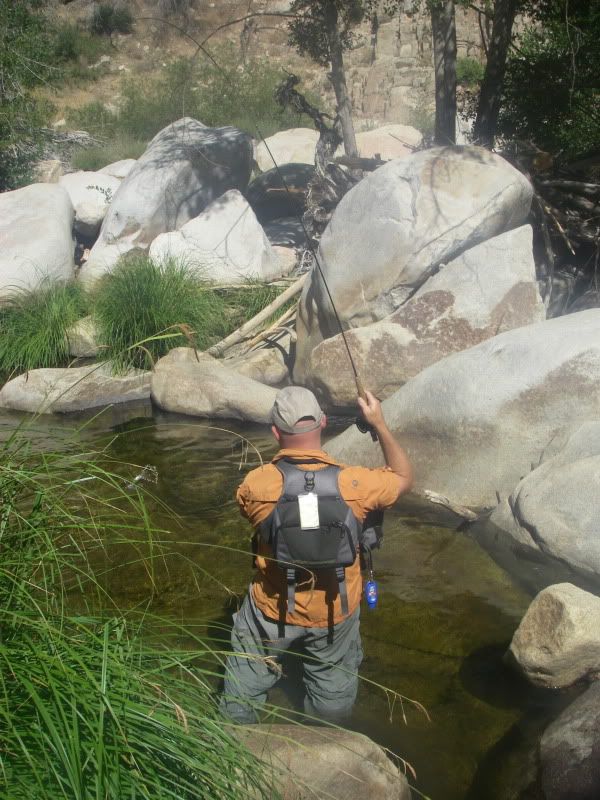 I join the creek divers association on this trip. My foot slipped and I fell face first in what I thought was a fairly shallow pool. I found out it wasn't so shallow as I nearly became completely submerged.
The day was warm and the water was cool so it wasn't so bad.
A little farther up the river Curtis explained that the pool we were looking at was a tough place to hook a fish. 3 or 4 other guys had tried but had no luck, so he told me that I'd have a chance to redeem myself if I could pull a fish out of the pool with my tenkara rod. How could I not give it a try. On the 2nd or 3rd cast I resurrected my pride and pulled a nice little bow. I now know where redemption lives.
To give you an idea of the kinds of rocks we had to climb over here are a couple of photos.
I'll have to head back again soon to show Sherry this wonderful gem of a creek. She wasn't able to join us today due to a bruised tail bone from a couple of weeks ago, but as soon as she's able to make the drive we'll have to visit this place again.