I've been interested in giving Tenkara techniques a try for a while now. I've primarily held off due to the fact that the fishing has just been too good. I know it's a tough problem to have, but the past month has been pretty much prime time in Michigan for big fish on big dries, and quite honestly, I wasn't sure I'd be able to handle the larger fish. I decided to spend the past week giving it a go.
I appreciate the collective knowledge and wisdom I've learned here, but my experience was slightly off the general curve. To begin with, my home river is the Muskegon, it is a large river, usually about 200' across in most sections -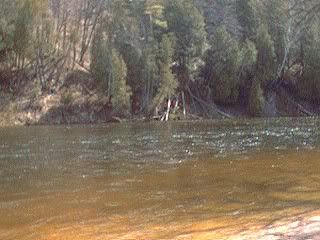 I did not have a problem fishing and covering water. Of course Tenkara techniques provide superb control and presentation, and was very effective.
One thing I did not expect is how different the casting technique and feel is using Tenkara. I don't know I can accurately describe the feel involved with non-Tenkara fly casting, but certainly there is the input of energy to accelerate and transfer energy into the cast. I didn't feel that at all using Tenkara, my first impression was more akin to using the rod to paint the line, everything was soft and slow. No speed involved. It did take me several minutes to get used to the feel and tempo most every time I fished. It's hard to teach an old dog new tricks.
My wife on the other hand is a much less experience fly fisher than I, she was comfortable with the Tenkara feel from the first cast. She and I both practice Iaido, she said she thought the movements were very sword like, and as I thought about it, I agreed. The Japanese sword is a cutting machine, the primary goal is to guide and direct it, the sword does the cutting. I think it's the same with Tenkara, guide the rod, the cast will take care of itself.
The one thing that surprised me the most is how effective Tenkara was as a fish fighting tool. From other readings, I expected it to be a handicap, quite the contrary, I thought just the opposite. I was amazed at how fast and easily I was able to bring fish to hand. The biggest fish I caught was a 16" football of a rainbow. This was in fast current, I had no trouble totally controlling the fish. Granted I'm not ready to tackle chinook salmon on Tenkara (yet), but I had remarkable control over every fish I caught the past week. I can't always say that with fly rod and reel. The length and flexibility of the Tenkara rod really lends itself to apply fish fighting techniques and strategies. I was very impressed.
Bottomline, had a great week of Tenkara up here in the great white north. If any of you are ever in the area, let me know, I'd be happy to take you out fishing.
Again, thanks to everyone here for introducing me to the technique, as well as all the info you have so freely shared.