Well, that isn't exactly correct since I did catch some smaller 10-12 inch trout; however, when I tied into a couple of large fish, and the trophy water on the Cherokee Indian Reservation in NC has some very big fish, the fish popped off my 4x tippet. Yes, it took a few seconds to do it, but when the fish dove for the depths of a large hole, my trusty Yamame was out of its league.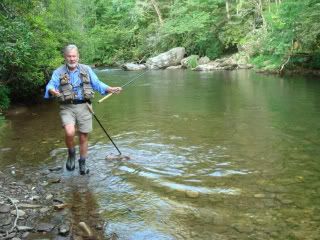 You'll notice I'm doing the Tenkara Two-step as I go back to my bag to re-rig. The solution? Looks like a couple of choices: fish smaller water for smaller fish OR have Tenkara USA develop a larger rod. And don't use 3x or stronger, because I damaged one rod already by doing so.
By the way, that is not a spare Tenkara rod dangling from my belt but rather the wading staff I've promised my wife I will always carry while fishing. I mean just because I had to have arthroscopic surgery after I fell and messed up my right knee....