Sherry and I had so much fun fishing the waters we visited during the Tenkara Outing two weeks ago with some new friends, we decided to cancel our trip to Mammoth Lakes and revisit the same waters again last week. On the way up we had some concern about what conditions we'd find due to a very stiff head wind all the way up to the foothills of our destination. But wind wasn't much of a problem. The Ayu and Ebisu handled quite well the little wind we did encounter on the water.
It's amazing to both of us how much the conditions and weather can change in a week and a half. A couple of weeks ago it was sunny and warm with air temps in the mid 70's and water we could wet wade. Last weeks the air temps were in the mid 60's and the water was noticeably colder. I know. I took a small dip and scooped nearly half a gallon of water into my waders. Burr! It didn't stop me though. We had lunch to help me dry off a little and kept fishing.
Fishing was slow due to the water temps I guess. Sherry came home with zero fish though she did hook up 5 or 6 fish. I think she's having the hook set trouble some members on the board have mentioned. But time on the water will remedy that problem. I on the other hand caught 6 or 7 fish during the trip. Not even close to the numbers I caught two weeks ago, but I'm not there for numbers. I just love being on the water searching for treasure. We had a very relaxing time, spending some quality time together doing something we both love. Doesn't get better than that.
Our home away from home for a few days. It was small and cozy, but an aero bed on the futon and two

big thick zip together sleeping bags

made it very warm and comfortable. Only half of the building was ours so you can see how small it was.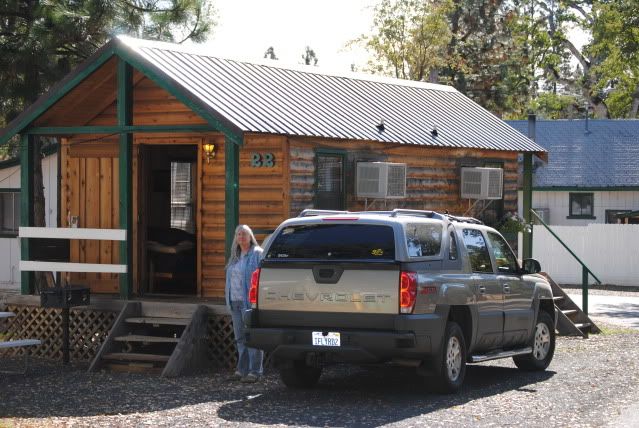 Sherry working the water with her Ebisu on the first stream we fished on the day we arrived.
Me working the same stretch of water up stream from her. I think I caught a couple fish on this stream if my memory serves me correctly.
Sherry hooked a few fish in this spot but missed setting the hook. She gave me a big smile even though she didn't land them. I love watching her fish. She's so determined and never gives up. She may take a break one in a while to gather her thoughts but gets right back into fishing. I caught a couple of fish here the previous day, and 5 or 6 a few weeks ago. A very nice and productive spot.
This is pretty representative of the fish we caught all week. Small but feisty fish and all wild.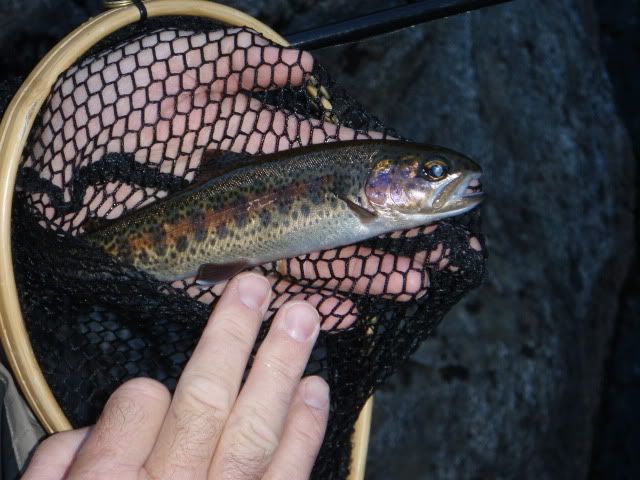 This is the same hole from the above picture of Sherry. You just can't help but fall in love with this beautiful place. The colors you see in the picture are very close to what you see with the naked eye. I just caught the edge of my finger in the picture shading the lens from the sun. Arrrrgh!
This next picture comes with a story all it's own. Every day while driving back to our cabin, I would see this tree. And every day I would see the colors of the sunset behind it, thinking how beautiful it was and how I'd love to get a nice photo of this tree with all the colors of the sunset behind it. It finally happened. It took three day to get it but I did. Thursday evening after dinner the conditions were perfect. The most clouds I'd seen for the past couple of days. So we drove up the road a short distance from the restaurant and I was in awe of the colors. I stood in the middle of a two lane 55 mph road to take this and 6 other photos. Not to worry, I had lots of time to get out of the way with Sherry as my lookout. Good thing she can't live without me.
Hope you enjoyed my story. Until next time we get a chance to share a day or two or three on the water, with you or without you, happy fishing! It would be more fun with you, by the way.