My mate Dave and I set off early Saturday morning on the weekend of 27-28th February for the drive up in the local mountains, we planned to walk to a remote fishing spot on the Goodradigbee River that we have had our eyes on for a while now, this was my first trip with my Yamame which I had recently purchased from another Aussie that decided that he had too many Tenkara's. We parked our vehicle at the Mt Franklin car park on top of the Brindabella Range, put our packs on and headed west, our target was only 3.2k away with a decent of 750 meters, the problem was there was no trail and the area is recovering from bushfires that went through the area in 2003. A lot of the vegetation in the local Australian bush needs fire to regenerate and the re-growth can be very thick, this was not to bad just after the fires but a lot of the re-growth is now above head high and the weaker plants have not started to die off yet, in places it is not possible to see past your nose.
The 3.2k walk down took us 4 hours and as it is still hot here, we where quite exhausted when we arrived at our destination, after as rest and lunch we pulled out our Yamame's and I was first to tie up, I put my line in right next to our camp site and on my third cast I got my first fish a nice little Rainbow, a few seconds later my second and then a third, Dave took some photos in between tying his fly on and by the time he put his fly in the water I had six fish and from the 10 meter stretch of water next to the camp site I pulled out 10 fish, wow what a start.
Dave soon caught up and we where pulling in fish at will, after a while we lost count, we estimate in the afternoon we caught 50 or so rainbows each, this fishing spot is very special and is protected by some of the most rugged country in the region, it is only madmen like Dave and I who are brave or stupid enough to venture into it.
As it turned out the Goodradigbee is a perfect river for a Tenkara rod.
Well for the walk out that is another story, in the morning it started to rain, we left camp early, some 7 hours later we made it back to the car.
below are a few photos from the trip, I think they are self explanatory.
Tony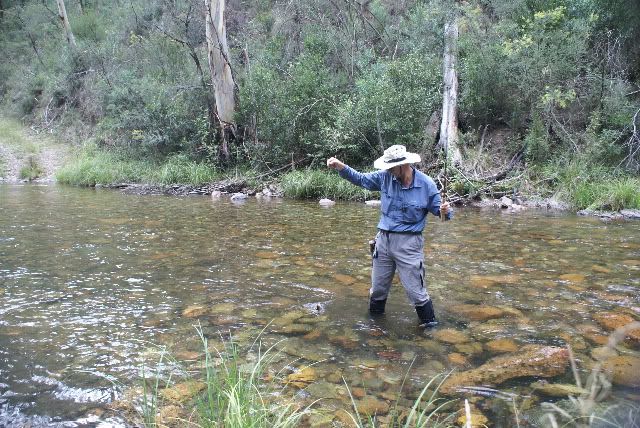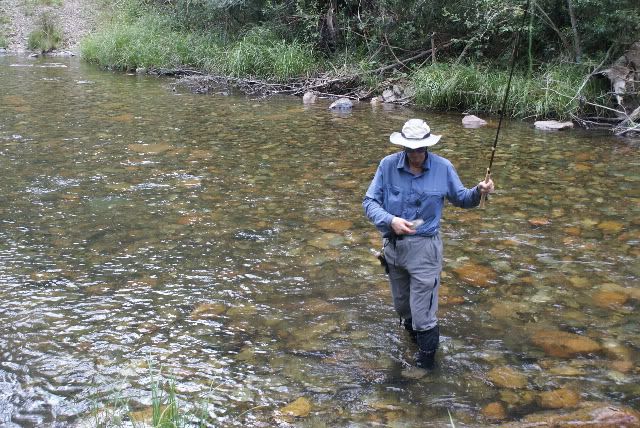 [IMG]http://i54.photobucket.com/albums/g109/tbeasly/Fishing/DSC06003.jpg[/IMG