The idea...
The Vagabox is a traveling fly box
, bringing surprise, intrigue and fishing stoke with it wherever it goes. You fish with the box, enjoy it's humble offerings and post up some stoke here.
Press play to listen to my
preferred musical soundtrack
to this awesome post. Until I figure out how to embed, you'll have to open it in a new tab...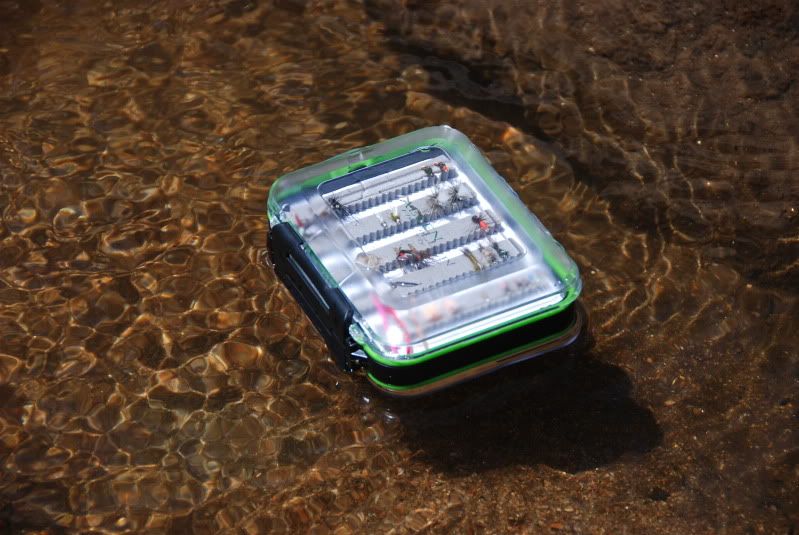 The rules....
1. You get the box for a 2 week slot. Be respectful as the next in line is eagerly awaiting his turn with Vagabox. If you have a void between you and the next player (ie. no one signed up for that slot), you'll split that time with the next in line. Instant 3 week stint with Vagabox.
2. Replace any flies you lose to the elusive treefish, rockfish or log fish with something similar ish. Or not! It's up to you. They don't have to be flies you tie, if you're scared or don't tie, just go buy some. If a fly got hit pretty hard, please retire the fly in a manner befitting a flag or beloved pet, but put it back in to box so we can see it in it's mangled, beat up, disheveled glory.
3. Vagabox requires a blood payment for the use of it's virtues. And by blood payment, we are referring to... more flies! After you have made sure to replace any you lose, add an additional 3 flies to the box.
4. Fly type. Let's limit this box to no more than 2 of any one pattern/color. This does not mean a box full of 16 parachute adams in 8 different color bodies. We are going for cool stuff, unique ties and ideas.
5. There is a log book with Vagabox. Please write about you're experiences, and maybe put in the LB slightly cooler stuff than you write about here. Sketch cool flies that you lost the last one of. Tell what luck you've had fishing different flies different ways. Any inarticulate ramblings are welcome. Sign and date (small please) Vagabox with the included sharpie as well!
6. Please give Vagabox the respect it deserves. No one is saying it's got to be the only box you fish with, but if you are signing up, you are taking on the responsibility that commitment requires (that's a crap load of fishing). Get out there and try out those new patterns! I know I have trouble coming off my go to's, here is an opportunity to see what else is out there.
The players...
Sign up for a 2 week slot, Try to get it to the next person by the 1st or the 15th depending on the slot. If interest is mellow or there are openings in between players, you'll split that time with the person on the other side of that space (see above).
2012
June - Acheateaux (CO). I'll use this time to get everything together and rolling.
Mid June - CuriousLayman (NC to CA)
July - Daniel G (CA to PA)
Mid July - Anthony (PA to UT)
August - CM Stewart (UT to NY)
Mid August - statikpunk (NV)
September - Kuhlow (NY)
Mid September - goneflyfishing (CO)
October - Loften (NC)
Mid October - Mossy (CO)
November - Erik O. (UT)
Mid November - tsegelke (CA)
December - RyanH (OH)
Mid December - SamEureka (VA)
2013
January - Ron_Giesecke (OR)
Mid January - jchausee
February - lancemilks
Mid February -
March -
Mid March - achilles
April -
Mid April - archknits (NY)
May - smitty (CA)
Mid May - Curtis C
June -
Mid June -
July - Acheateaux (CO)
Mid July - Chuque 1972 (NOCO)
August - Brian&Lisa (AK)
Mid August - Nagasaurus (WA)
September - Old Hat (OR)
Mid September - achilles38
October - Jason Sparks (NC)
Mid October - Craig Thor
November -
Mid November -
December -
Mid December -
Please reply with your top two slots, those go on a first come, first serve basis. Also tell me where you are, as that may swing what slots someone signs up for. I would personally love to hand this off to someone during a day of fishing at BC...
Check out Vagabox's interactive map!!!
Ready..... go!