It's been a while. Yeah, really. Here on the "left coast" we've had a winter that dropped an enormous amount of snow (can you say downhill skiing in July?), which meant runoff later than usual, and also meant all these poor fishermen have to wait longer than usual to fish their beloved waters.
Finally, it all came together. Time off from work, a clinic for California Heritage Trout sponsored by the CA Dept of Fish and Game, and an extended weekend. Game on.
You know, I have to say we really are incredibly fortunate here in CA. I was able to visit some pretty remote waters, gaze at some absolutely stunning scenery, and pick up two glorious little trouts for our state Heritage Trout Challenge (HTC).
It started with the HTC clinic. Jeff Weaver and Stephanie Mehalick, both from the Heritage and Wild Trout Program, presented the clinic to six of us on Thursday, July 18. We (from all over CA) met WAY up north near the state line and overlooking Goose Lake. Jeff and Stephanie did a fantastic job of introducing us to the history of not only the Goose Lake and Warner Lakes Redband fish, but also the geology of the land and the conservation efforts that are in place to protect these resources.
I can't say enough about the clinic. If you have the time, I'd highly encourage participation. It's completely free, and all you have to do is show up. You're responsible for all your own travel, accommodations, and fishing gear, but what you walk away with is a wealth of knowledge and respect for our heritage fisheries. Jeff mentioned they're doing a Lahontan Cutthroat clinic on July 24 and an Eagle Lake Rainbow clinic later in the year (he didn't have a specific date). PM me if you'd like contact information.
After an initial hour or so of information gathering and note taking (I have a notebook full), we headed up a dirt road to one of the few available tributaries to pick up the Warner Lakes Redband. Once we arrived at the "swamp," we broke up and spread out. I knew it was going to be a great trip when, I kid you not, I just peeked over some grass, literally dropped the fly in the water (no casting here), and it was fish on. Grabbed the pic and it was one goal achieved for this year's challenge.
After lunch at a small local lake (one of the highlights was a bald eagle soaring about 30 feet overhead), we headed over to one of the tributaries for Goose Lake. We spent some time looking over the restoration efforts for this little creek, talking about what has worked, what hasn't, and what some possible alternatives are. We then headed several miles further upstream, where once again we spread out and tried our luck for the Goose Lake Redband. In pretty short order, it was another heritage trout on. Eventually, everybody had to leave, but since I was camped in the woods not too far away, I fished until dark.
Both my little fish were caught using an Ebisu. Funny, how when I pulled out the rod everybody was interested and more than one person asked to try it out. As it turned out, it was the perfect tool for setting down the most delicate of drifts, sneaking up on really spooky fish, and making this year's Heritage Trout Challenge just a bit more special.
Warner Lakes tributary creek:
Warner Lakes Redband: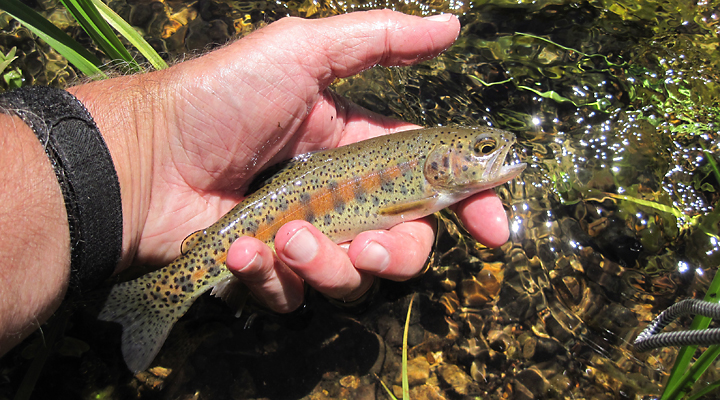 Creek-side view:
Goose Lake Redband: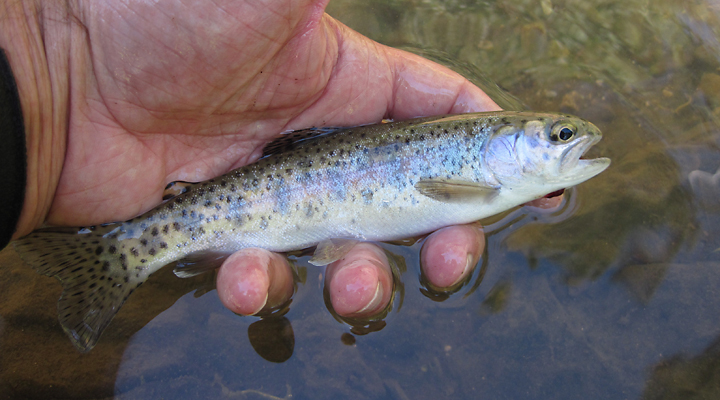 So, would you fish here until dark?
Cheers!
John