First of all I want to thank Daniel for doing all he did to set me up with my 12' Iwana, line and flies. Excellent customer service! I received my rod in more than enough time for my trip.
Needless to say I was excited to get out and put the Iwana to it's first test. I had read a post about a river near a place I had backpacked in a few weeks prior. Due to the heavy snowfall this year in the Sierras most rivers and creeks are overflowing their banks with rushes of ice cold water. Great for whitewater rafting, not so much for stream fishing.
So having thought this particular river had better fishing flows I packed up my supplies and headed out for a day on the Clark Fork. I was a bit disheartened when as I started out my hike next to the river only to find a not so calm, turbid, mountain stream rushing past me. However, I decided I better do some fishing and make the 3 hour drive worth it so I hiked to a likely spot with some calmer pools and set up the Iwana. Mind you this was my first time using a Tenkara rod or any fly rod for that matter. The bank of the stream was mostly inundated with brush and large trees. Luckily I found a spot where I could thread my backcast through a gap in the trees. It was fun to learn the action of the rod point to a spot to land the fly. I honestly don't think my technique is even close to anything resembling "good" at this point but I had a good time none the less.
After hiking a good two miles upstream and not seeing signs of a single fish I thought my day would be less than spectacular. Since my previous two backpacking trips this season hadn't even yielded spoting a fish I was really hoping to at least see one, not even so much concerned about hooking and landing one.
I decided to take things to the next level and hike to the nearest lake where I had heard rumors of brookies. The trail broke of from the stream and followed a creek up 1200 feet of elevation gain in a mile and a half. I was a little beat by the time I topped out at 8300 feet and of course there were still patches of snow in quite a few places. I spotted the small, shallow lake and headed towards it, softening my steps as I approached. At a short distance I heard the unmistakeable splash of water. My last trip resulted in birds making all of the racket but this time I didn't see any birds. I waited a few more seconds and splash again, this time I spotted the fish nosing out of the water to take a bug off the surface. I looked down at my feet which were now right next to the water and what was swimming straight towards me but a 14 inch brook trout! I almost jumped in after it! Here I was, a small mountain lake all to myself full of hungry brook trout!
I readied the Iwana promptly. I decided the best bet was to walk the plank, a huge tree that had fallen into the lake but was stable and wide enough to fish on comfortably. The only thing I was worried about was giving away my position and spooking the fish but they were so busy feeding they barely took notice of me. I started up the Iwana as best I knew how at that point and made a few casts, fanning the area in front of me. After the 5th cast, BOOM! A brookie slammed the Adams I had tied on. I set the hook and came up empty, and without the fly. I was staring at an empty tippet. Of all the times for a knot to fail. So down one fly, but with my adrenaline still pumping I tied on a new fly making sure my knot was secure this time. I tried from this spot for several more minutes but the early action had spooked the fish from the area. I could see them feeding at many other spots of the lake though. If only I had waders with me I could have really done well that day.
All this time I didn't realize that I would be running out of daylight, not to mention that one of the streams I had crossed earlier may not have been crossable if I waited too long to get back. I was desperate to hook one of these guys and land it. At this point I knew my Tenkra skills were in need of a good lesson. I had lost several flies in the trees surrounding the lake and I was getting tired of tying new tippets every 10 minutes. Now don't get too mad, I brought my spinning tackle with as a back up. I cast for the next half hour or so with several different lures. I had a few hits and many follows but it was clear that the fish were into a more delicate presentation. Why didn't I stick with the Iwana I thought. Well, I finally tied on a small gold jig to my spinning rod and like a little kid, dangled it next to the log I was sitting on. Pow! I was hooked on and this fish wasn't getting away. I landed a 10" brook trout. I have to say, it was the most beautiful fish I have ever caught in my life. It was a very rich dark brown with an orange underside and the most colorful spots and white edged fins. Why the verbal description? Because as I was turning my camera on with the fish in the other had he made a break for it, jumped out of my hand, and swam home. All in all, it was a bittersweet experience since I wasn't able to land him on my Iwana. Practice is the name of the game for my next trip. If you guys have any tips I would really appreciate it. Here are some photos from a very enjoyable day.
The rushing stream that greeted me after a three hour drive.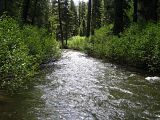 More high water on the Clark Fork. Couldn't cross or walk the banks.
Finally! Some fishable water. But no fish!
The plank at Brookie Lake. I wish I could have spent more time there.
Afternoon at the Clark Fork. I broke rule number one of stream crossing. Make sure you can cross on the way there AND the way back. The water at the crossing was calf high in the morning and above my knees by 4:30. I have to say, I've never walked through colder water. It was painful!
A butterfly checking out my pack.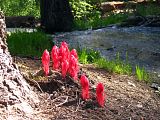 Snow plants. Usually these are pretty rare but they're all over the place this year, probably due to the extreme snowmelt.
A distant range, still capped with snow.