Bill's a great guy, always inviting and never turning down anyone who wants to fish the surf in Mailbu across from his house and I didn't think he was a small creek fisherman. I was surprised when he asked if he could go with us the next time we headed to our local creek. If a 200 mile round trip is considered a local creek.
I was worried about what he would think of our little creek but he later said he was pleasantly surprised that the creek had better water and pools than he thought it would have had. After fishing all day with his western fly rod I was worried he get skunked and throughout the day I offered my Iwana to him to give it a try. I'd been picking up fish in all the pools we stopped at and he would get strikes without any hookups.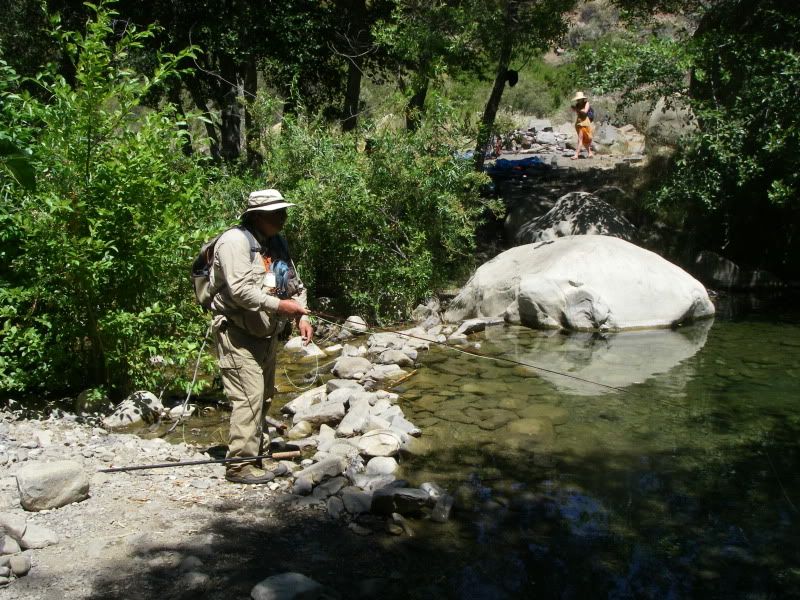 Sherry finally told Bill he needed to try the Tenkara rod al least once before we headed back the 3 miles to the car and I have a feeling he couldn't turn down Sherry's charming push to try out the Iwana. He took the rod and after a few casts got the hang of how it felt and was putting the fly right where he wanted it. Several casts later he had his first fish on a Tenkara rod. After a big smile he said he was surprised at how easy it was to feel a fish strike due to the sensitive tip.
His words:
"I have to say, that Tenkara rod is the perfect instrument for little creeks. In the short time I fished it, the possibilities were very apparent. Cool rod!"
I don't know if he's a convert but I'm sure he enjoyed fishing the Iwana.