These last few weeks at work have been trying, to say the least. So this weekend I decided to take full advantage of an off-Friday weekend.
I checked the weather forecast on a daily basis, and as the week progressed the forecast looked more and more bleak. 50% chance of thunderstorms everyday and a 30 degree (F) drop in temperature was sure to put a damper on the fishing. I didn't care, it had been a long last few weeks and I was going to go out and enjoy being outside!
The drive to the river was filled with second thoughts as I watched the flags standing fully horizontal in protest to the strong winds. At one stop to get supplies I opened the door only to have the wind threaten to bend it backwards. It was going to be an adventurous weekend battling the weather.
However, to my surprise I arrived to the river with wonderful weather - sunny, warm with lots and lots of big bugs. Boy were they big!
This Salmon Fly was friendly enough to let me hold him and capture his photo as he climbed along my Amago.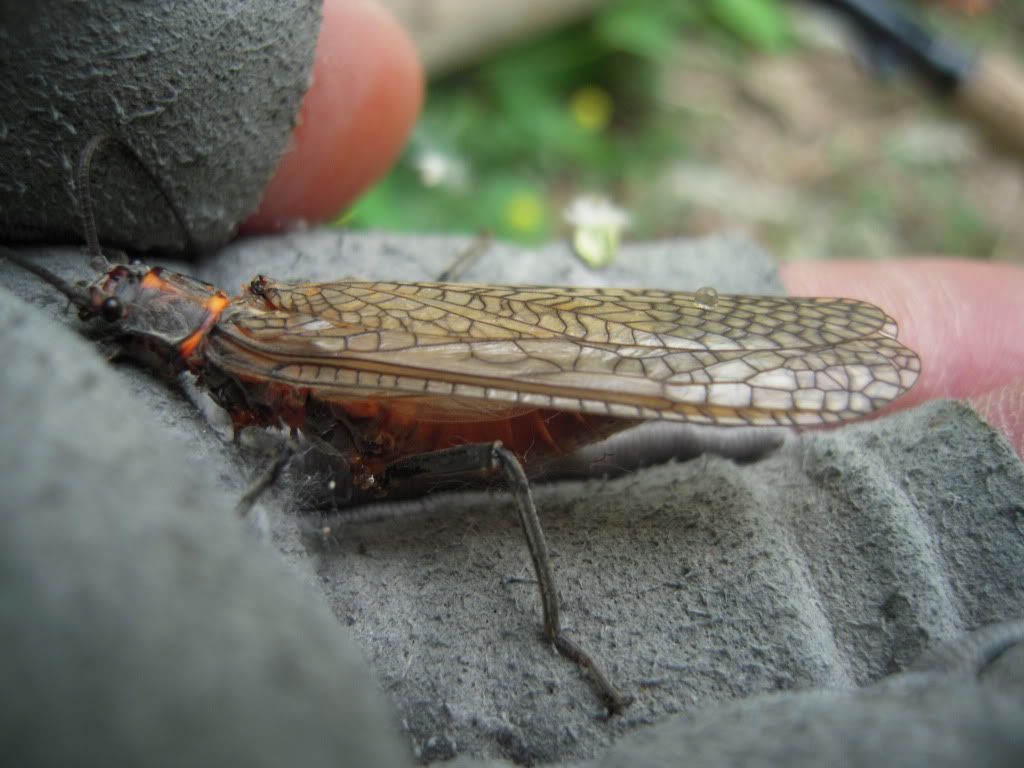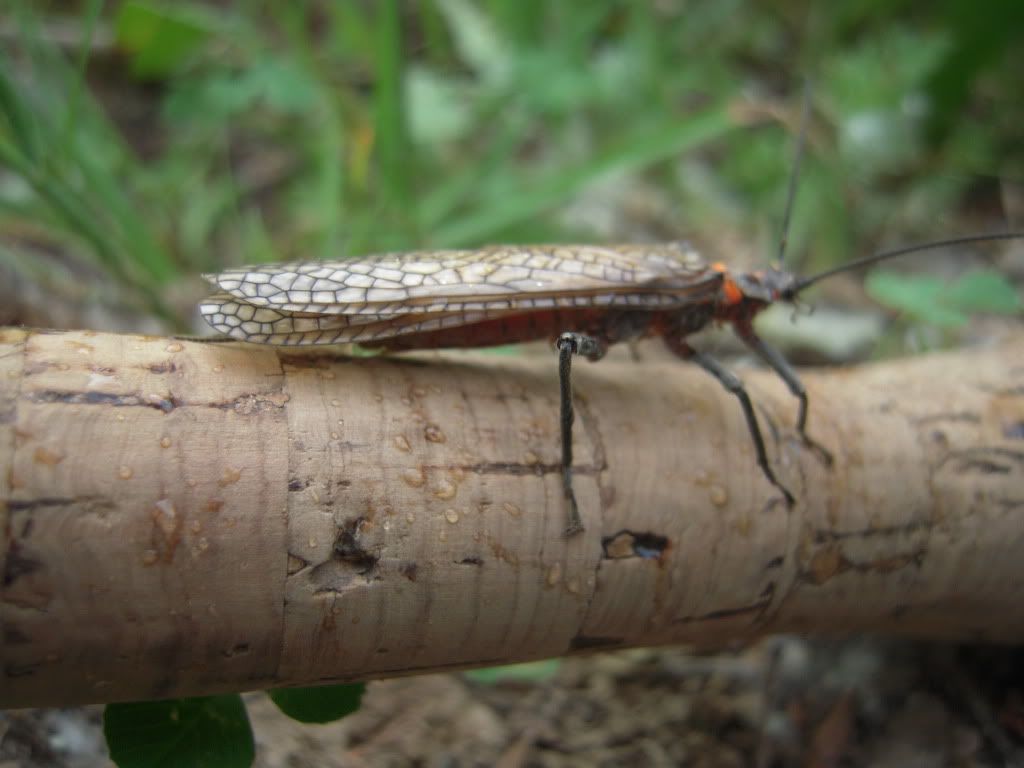 I tied on a big bug to imitate the huge Stone Fly and went fishing.
I saw more bugs than fish and so had the fish, I only teased a few to eat - they were all full!
The weather did allow for a great sunset.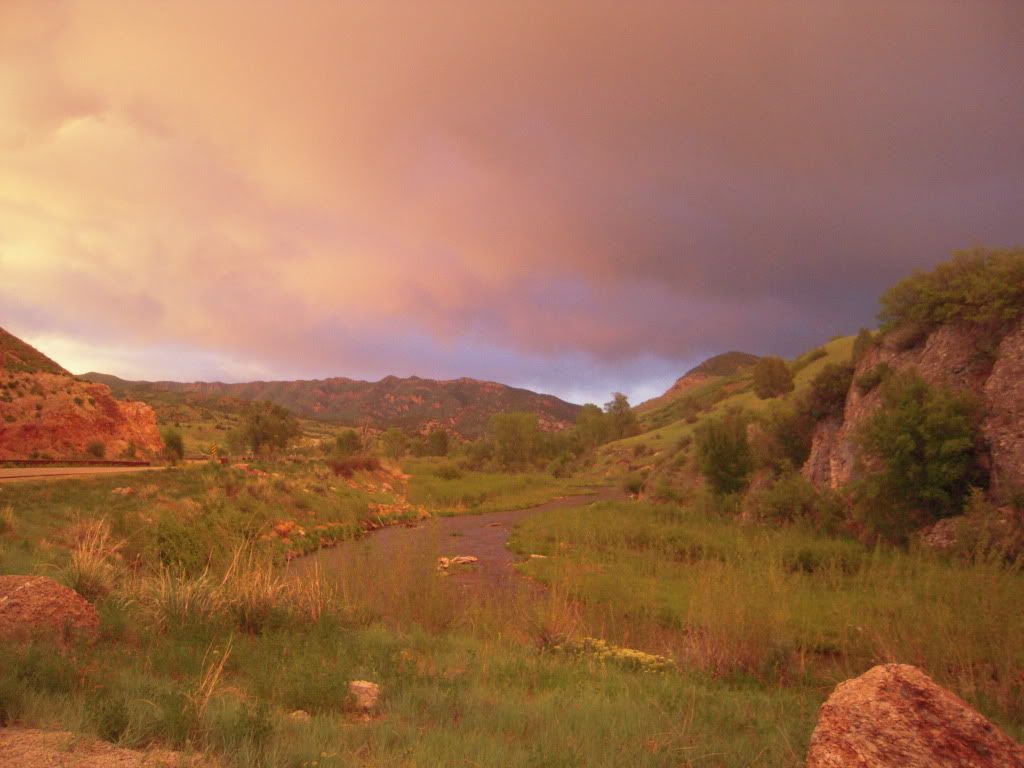 Self portrait on a clean car.
The next day I fished a little lower in the canyon. I didn't see the abundance of Stones I had seen the day before, but the fish were a bit hungrier. The fish weren't looking up, so I was nymphing - until I saw this fish rising consistently. I tied on a spare leader with a dry fly and had this guy hooked. Tenkara really is amazing - from nymphing to dry flies in 30 sec w/out having to re-tie the whole thing.
One of the bigger fish I've caught in moving water.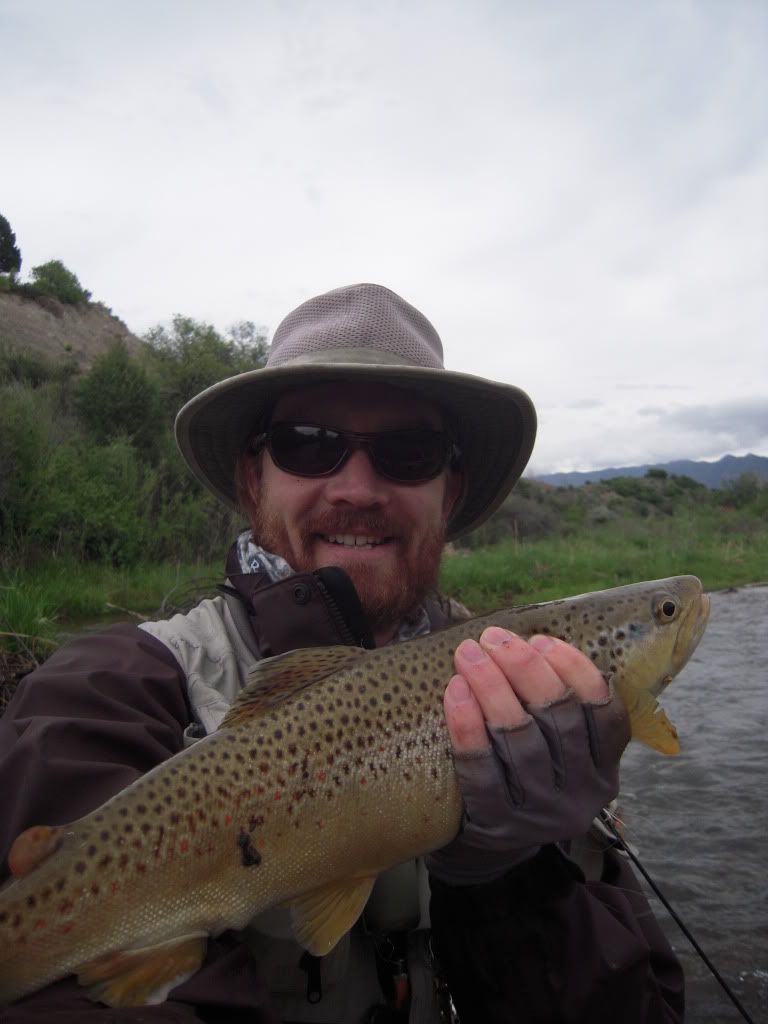 Feeling trigger happy yet?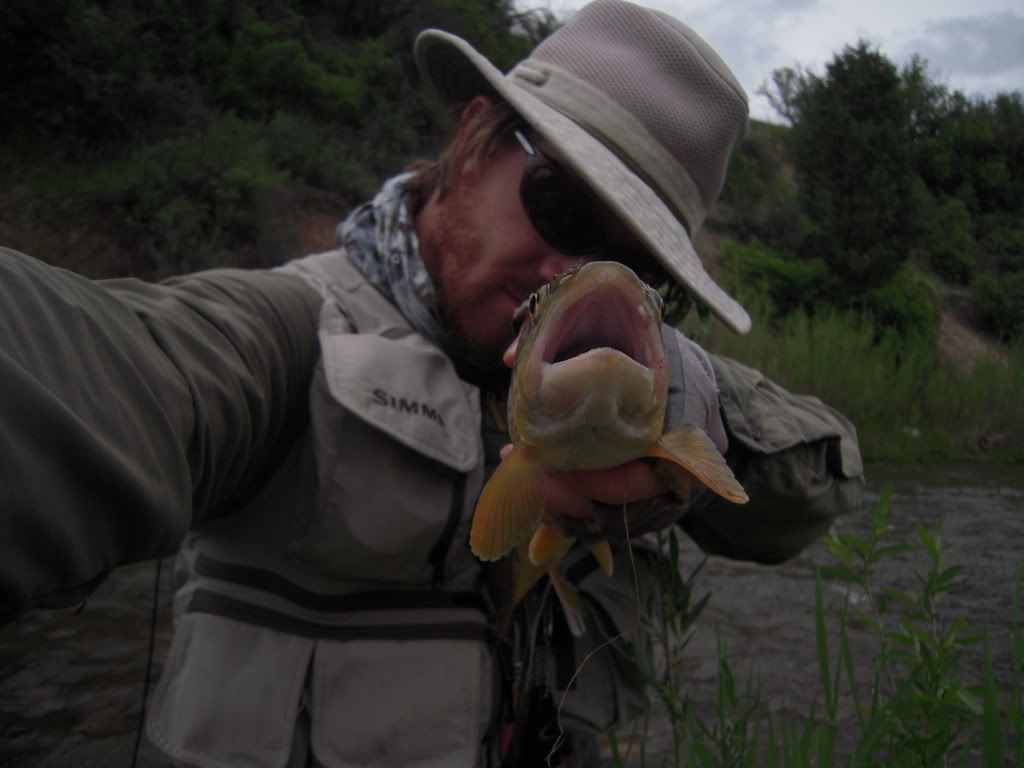 At the conclusion of day two I decided to drive around in search of a good camping spot. The rain had been coming down for hours and everything was pretty mucky. All the places I tried were too slick and the 2 wheel drive vehicle wouldn't make it. However this place looked nice and flat: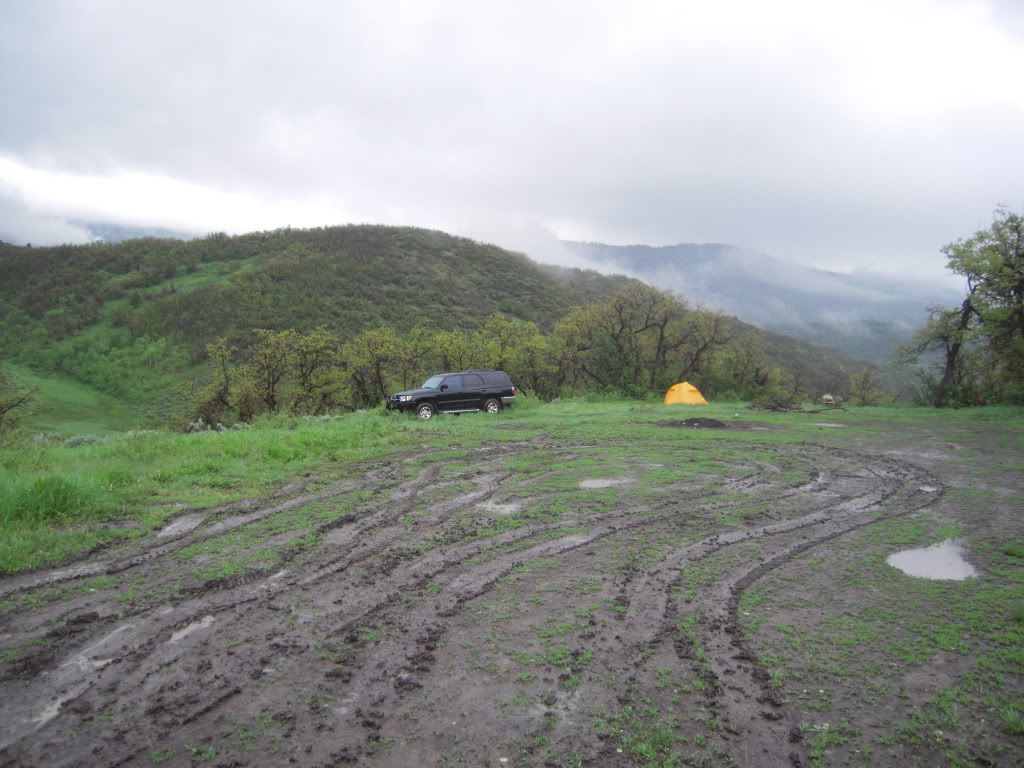 Not flat enough.
I got stuck and every time I tried to un-stick myself I kept sliding downhill. I called it a night and slept hard and fast while the rain pounded the tent.
The next morning I went to the road and waited for someone to drive by. Luckily a truck full of guys came by and they offered to push me out. I am very grateful for their help, I would have been there till it dried out...and that would have been several days.
Everything seemed so much better after having my vehicle safely un-stuck. I stopped to look, and smell, the sulfur spring.
Yuck, rotten eggs. It's a wonder that anything lives in this river.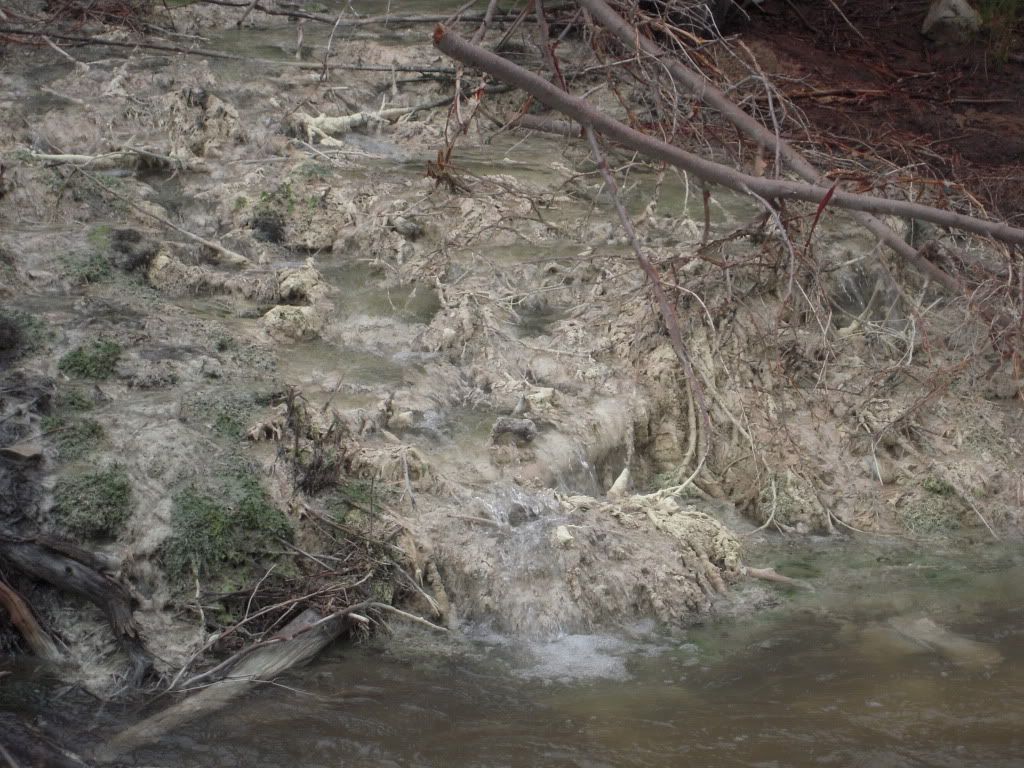 And again, for the third day in a row, I tied on the biggest bug in my box and went fishing. This was the smallest fish I caught.
Big meal for such a small guy.
A couple of parting shots: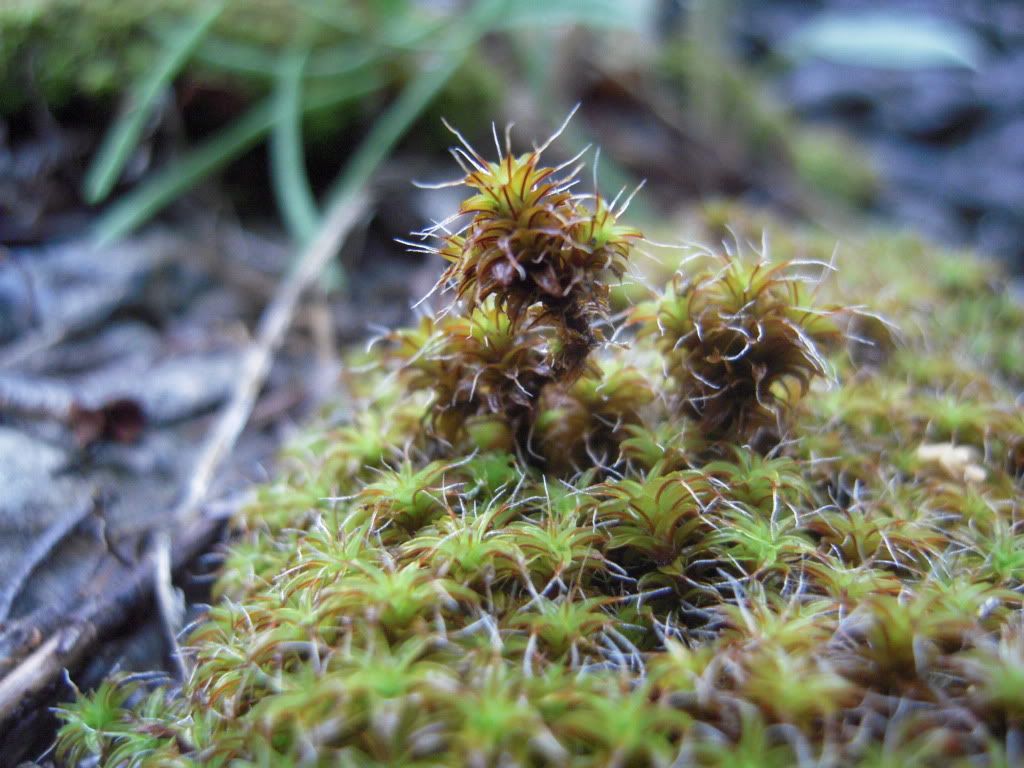 I think I might be OK to go back to work. Addiction fed and I am satisfied...at least until Monday!