I was fishing one of my favorite streams with my 11' Iwana, catching 7 and 8 inch fish, which the Iwana is the perfect rod for. I'd just started fishing one of the pools - not the biggest or the deepest by any means, when the line just stopped. I set the hook, because you never know, it might be a fish rather than a rock or sunken branch. It was a fish, allright, and I am happy to report that the Iwana will handle larger fish than advertised.
Please forgive the poor quality of the photo. I don't have a digital camera, and I have yet to figure out how to take good fish pics with my cellphone. In the net, the fish is curled up a bit, but stretched out it measured just over 17". The opening of the net is 15"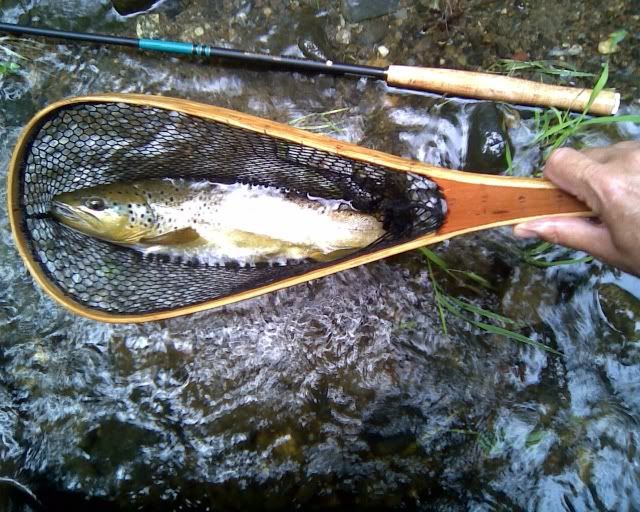 I have been fishing with a line and tippet about a foot longer than the rod, because with my older tenkara rod I found that is the longest line I can use and still net a larger fish. The Iwana bent enough that I still couldn't net the fish, and after several failed attempts I had to drop the net, grab the line with my left hand, pull it enough to trap it against the rod with my right hand, then pick up the net and net the fish. I found out that if you do this in one smooth motion while the fish's head is out of the water it works pretty well. Using 5x tippet rather than the 6x I had used before Dr. Ishigaki's Catskill presentation probably helped as well.
I think the Yamame would a better rod for fish this size, but if you happen to have an Iwana with you, and if there happens to be a pool that might just hold a larger fish, don't be afraid to make the cast. Because, you never know...